We would like to keep you updated on specials and promtions that we are offering. Sign up on our email list.
Authentic Living
HELLO ... THIS IS YOUR WAKE UP CALL
ON HOW TO LIVE THE REST OF YOUR LIFE
BUILDING A LASTING LEGACY.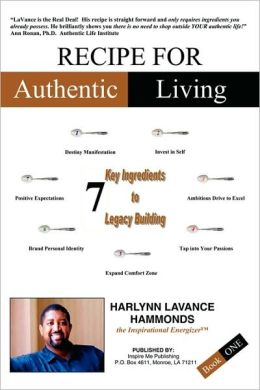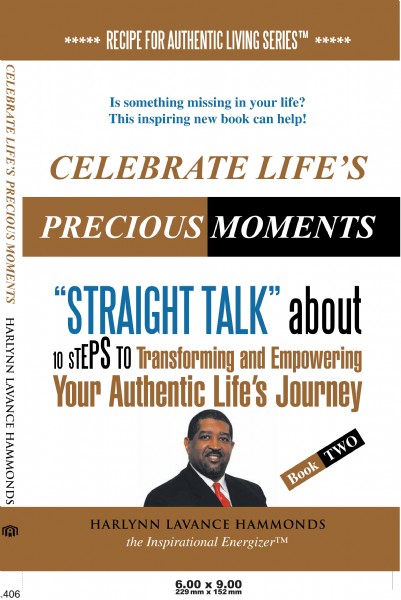 Book 1 Pages: 123 Book 2 Pages: 153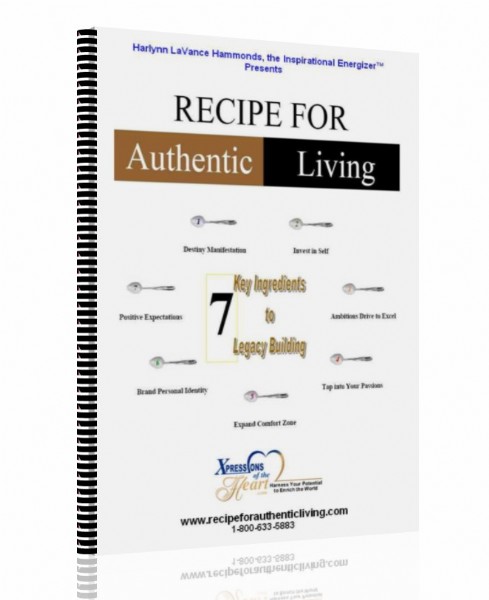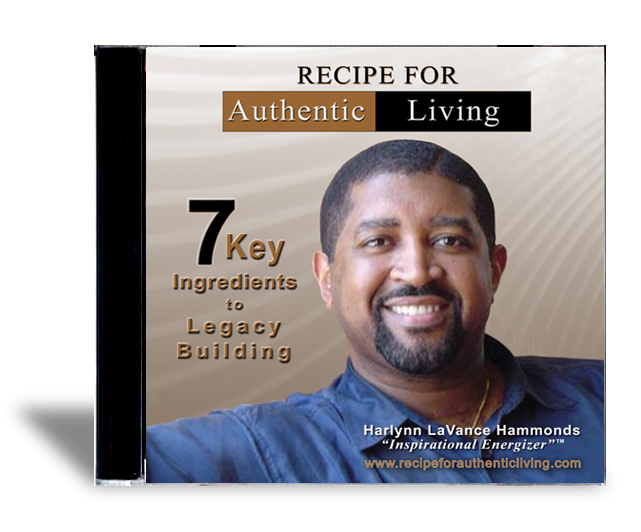 Workbook Pages: 46 CD

WARNING: Continue reading only if you are prepared to actualize your goals, aspirations and dreams. You probably already know this but ... life is not a dress rehearsal ... you only get one chance at this.
I Guarantee You Know Someone Who's Really
Frustrated With The Direction Of Their Life.
In today's hectic world, you may experience overwhelming days and often feel you have no control over the direction of your life. Doing things that matter the most seem to be at the mercy of day-to-day tasks and unexpected, weight bearing activities.
Unfortunately and unnecessarily, there are millions of men and women stuck at the crossroads of life. Trapped, confused and disillusioned about what to do with their lives. Their development is at a standstill and literally don't know if they are coming or going. But how frustrated they may be, they will not take the steps necessary to be redirect their lives.
Now is the time to start preparing to living a life that will yield a legacy of fulfillment, achievement and success today. Bring out the Best in You© awakens the brilliance in you with this empowering living legacy and performance improvement content. Create a meal that becomes a masterpiece with my Authentic Living and Legacy Building Course.
Everyone should have this course in their library that consists of a 128-page book 1 (perfect compliment to workbook), 153-page book 2, 46-page Workbook with 100+ questions and CD to unlock your legacy building and creates a significance life to honor and be proud of.
Here's What You Get With The
Recipe for Authentic Living Book Series ...
(Look as Book #1 is the "Why" and Book #2 is the "How" ...
Workbook as the fuel that feeds your aspirations)
The course is divided into two parts.
7 Reasons Why the "Authentic Living
and Legacy Building Course"
will help YOU:

Reason

If you want to talk, talk and act on your destiny with a new beat to your step, this course is for YOU.

Reason

If you need a catalyst to plant and nurture authentic direction supported with ambitious goals and authentic expressions, this course is for YOU.

Reason

If you have a strong desire to craft your budding legacy, this course is for YOU.

Reason

If you want to develop and empower YOU ... the masteriece product, this course is for YOU.

Reason

If you want to reenergize your purpose and starpen the awareness of your passions, this course is for YOU.

Reason

If you want to start living a life of significance and value, this course is for YOU.

Reason

If you want start birthing and launching your destiny, this course is for YOU.
A legacy foundation is yours to experience and live now. Start your path to Authentic Living and Legacy Building today. Order your course Now!
Authentic Living and Legacy Building
Is A Piece of Cake Once You Have Mastered Its Ingredients!
What is Authentic Living?

What is Success?

What will be the legacy of your life?

Can true success be measured in terms of a bank account, personal achieve or economic status?

Is it a 6-figure income ... an impressive title ... or even a corner office in a sky-line building?
The simple answers may shock you! This powerful book provides you with the spark to light your fame and awaken a motivated high achiever. There are many ingredients I could write on but I want to primarily focus on are the core 7 recipe ingredients to help you start living and building an empowering, sustaining legacy and magnificent destiny.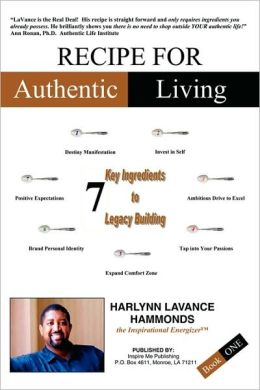 Personal growth and inspirational
6 X 9 Paperbook 132 pages
ISBN: 978-1-4343-1293-8
Book Reviews






Non-Fiction - Motivational - 132 Pages
Reviewed on 03/21/09 by Anne Boling of Readers' Favorite
"Inspiring, empowering and encouraging

This book Will Reveal How!

Recipe Ingredient

Reveals how to reclaim your life by unlocking and unleashing your maximum potential

Recipe Ingredient

Puts emphasis on life-long learning and continuous self-improvement as requirements to climing the ladder of success.

Recipe Ingredient

Identifies actions to fuel your intensity of purpose and unstoppable ambitious drive.

Recipe Ingredient

Acts as a catalyst to build the life you want and create the work you enthusiastically enjoy doing.

Recipe Ingredient

Moves you beyond the routines of everyday life to step boldly into your destiny.

Recipe Ingredient

Helps you market and brand your life and work activities with an authentic expression.

Recipe Ingredient

Stimulates personal inspiration to concieve, believe and achieve breakthrough, legacy building results.
That's A Wrap: Reinforces the daily application of recipe ingredients to enjoy the meal of creating and living an authentic life.

The "Recipe for Authentic Living " book is not 128 pages of fluff. It's powerful, to the point and will serve as a driving force for authentic action. It has for me.
Anthony Evans

Celebrate Life's Precious Moments
10-Life-Impacting, Life-Changing STEPS
"Straight Talk about Ten Steps to Transforming
and Empowering Your Authentic Life Journey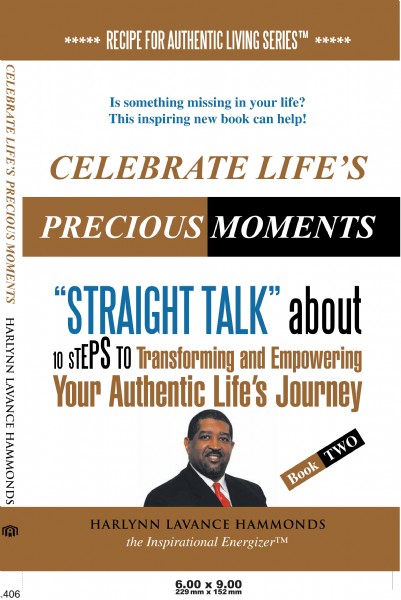 Personal growth and inspirational
6 X 9 Paperbook
Pages: 153
ISBN: 978-1-4685-5370-3


1. Goal Setters, "On Your Mark, Get Ready to Grow and Achieve"

2. Self Motivation - a Built-In Success System

3. It's About Time - Dream Fulfillment Awaits You

4. Communication to Get Noticed

5. Harness Your Decision Making Power - the Core of Excellence

6. Career Architects Empower Change

7. Leaders Are Birthed from Within

8. Character and Conviction - Foundational Pillars to Live By

9. Inward Journey to Spiritual Maturity

10. De-Stress Life and Work Activities
Get the Workbook Others are Talking about While Supplies Last
This 46-page workbook is the perfect compliment to the Recipe for Authentic Living Book Series. Creating your unique destiny is a divine right and this workbook helps you to accomplish this task. The in-depth 100+ questions are designed to transform your thinking and develop a core philosophy that acts on your passions.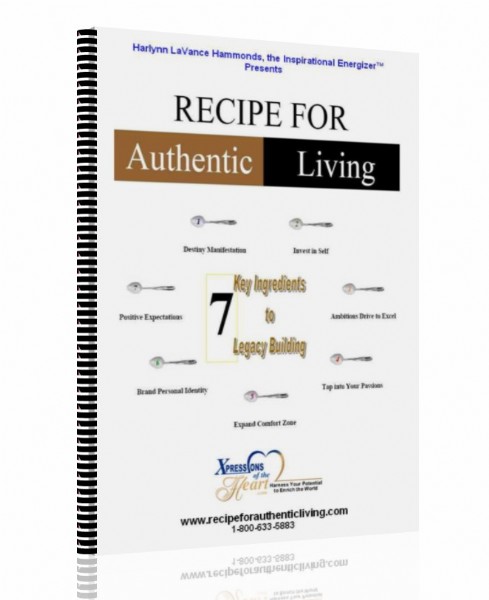 Workbook provides YOU the right questions to expand your vision, invigorate your imagination and lead you to major purpose fulfillment. It takes YOU on a journey that builds your legacy foundation to unleashing your authentic exxpressions to living a life that makes a difference.
Read the contents of both books and get to know yourself better so that you know exactly who you are and what you want to do an accomplish in life. YOU will learn 7 specific attributes and much, much more on how to in this workbook:


Craft a legacy foundation and empower your destiny walk.

Identify values, interests or beliefs that really matters to you.

Identify and persist on achieving goals that fulfills your asssignment
and life purpose.

Create a fulfilling mission statement with measurable outcomes
deadlines for accomplishing desired outcomes.

Challenge your thinking and abilities to exceed your expectations.

Inventory your attitude of success expectation and legacy mentality.

Move beyond personal fears, doubts and uncertanties to improve your
life and realize your greatness.

Tap into your divine connection to leverage your talents and abiliies.

Use the power of marketing and branding to express your authentic
identity.

Create a legacy profile that captures the essential elements for
success and significance.

Take action TODAY ... not Someday when you get around to it! Order your action workbook TODAY! Do It Now! Separate from the pack with the instructions and guidance within this workbook!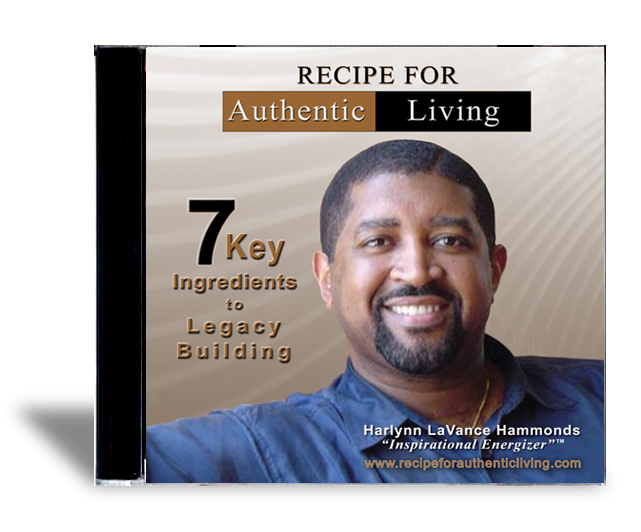 In this amazing CD, LaVance takes you by the hand and walks you through each and every recipe ingredient taken from this encouraging book. The CD reveals simple, essential elements that can transform an individual into high achievement and authentic living.
LaVance desire is to help you turn your dreams into wealth building actions an not missed oportunities or lost hopes. He shares personal experiences to help bring out your own experiences, feelings and emotions. He believes you can expand your horizons and soar above your lofiest dreams to achieve what is in your heart!