We would like to keep you updated on specials and promtions that we are offering. Sign up on our email list.
Connect the DOTS
Are You Serious About
SUCCESS ATTAINMENT?
DISCOVER HOW ACROYMNS CAN HELP
YOU GET WHAT YOU WANT IN LIFE!

Continue reading …"If you want to start a fire, you've got to strike a match to light the fire of enthusiasm and inspiration in your life." That is what this 7-book series titled Connect the D.O.T.S. will do for you! Those who are serious about total personal development and demonstrating maximum potential should listen and apply these powerful acronyms in their daily routines.
These acronyms will provide you with transformational ideas and thoughts. I am a firm believer in living what I have published and utilize the acronyms outlined in this 7-book series on a daily basis. Purchase this inspirational product today … it is a great gift for anyone who wants to pursue the path of achieving desired results.


This empowering Connect The D.O.T.S. 7-book series is designed to help you accomplish three major life objectives:

EXPANDS the mind to accelerate your personal and business success with sustained thoughts and focused actions.


Explains How Mental Barriers Positively or Negatively Influence Our
Lives.



EMPOWERS you to accomplish personal worthwhile dreams, aspirations and goals.


Provides Actions to Shatter the Ceiling of Lack, Insufficiency
and Limitation.

EMBRACES the personality, skills and talents to awaken the winner within you.


Personal Check-Up Time Cultivates Habits to Prosper with your
Passions.

"Liberations from Mental Bondages and Poverty" is book 1 in this 7-book series named Connect The D.O.T.S. This book series will change individual's attitudes and enhance accountability of their performance. These acronyms have the power to transform your passions into life-enhancing actions."
Zachary Taylor

"The author achieved his book goal. He has written a book that challenges all readers to break free of self-imposed glass ceiling and endeavors altering their successful actions while looking at life events and activities with a different perception or perspective."
Lisa Melancon Hammonds
Liberations from Mental Bondages and Poverty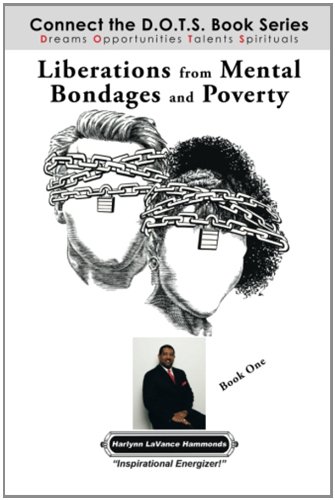 About the Book
"Liberations from Mental Bondage and Slavery" is a great library resource of acronyms for empowered living to build success principles and empowerment thoughts to live an intentional rich-filled life! Give this book a good read and you will see things quite differently! Why do I say this … Our thoughts shape our attitudes. Our attitudes influence our actions, our actions create significant results and puts money in our bank accounts.
You too can harness the power of acronyms to help discover a greater life meaning and destiny walk. This book will help change individual's attitudes and enhance accountability of their performance.
Book Excerpt
The power of our spoken words and thoughts has an enormous impact on our minds and in our lives. "Liberations from Mental Bondages and Poverty" will lift up your thoughts. The mind guides our footsteps as we progress along the pathway of life". The attitude of the mind will set free the liberating thoughts of the mind to empower habit productive actions as well as make selective choices or decisions in life that are detrimental to the stability of your mental, physical, emotional and spiritual development. Do not fall prey to the negative dictates of your mind! Renew your mind! Think before your speak it! Think before you implement action!

"Begin Today, Right Now" to expand your thinking and stretch your imagination to see possibilities and brilliance not seen before. "Begin Today, Right Now" to empower your mental thoughts to create the life you deserve. The liberation will follow to release the unlimited power and capacity within you. Continually strive to reach the higher pursuits to discover your authentic purpose and destiny to shatter preconceived limitations. Embrace your inner, fighting power warrior that is an overcomer - always be true to oneself!

"Liberations from Mental Bondage and Poverty" is expected to sell out fast, so get your order in now! Get a signed autographed copy today for yourself or sow it into the lives of others as a gift for friends, family or loved ones.

ISBN: 978-1-4918-2736-9 (sc) Pages: 102 ISBN: 978-1-4918-2735-2 (e)