We would like to keep you updated on specials and promtions that we are offering. Sign up on our email list.
Empowerment Thoughts
LIBERATE your GREATNESS
with BARRIER DESTROYING
EMPOWERMENT THOUGHTS

Dear Motivational Seeker:
I'll make this short and sweet.
Did that headline made you think? I mean REALLY think? I hope so. That's why I put it at the top of this page to capture your attention!

Do you want to go from good to great? Then master the mental game. It is the final frontier to conquer!
Our thoughts are the blueprints that shape the experiences in life. How and what we think unlocks the door to manifesting our dreams and aspirations. Yet we are constantly stockpiling our minds with mental garbage and we know junk belongs in the junkyard. The old cliche' the mind is a terrible thing to waste is not an overrated statement. It is absolute truth and definitely a fact!
I think you would agree ... everything you read, listen to and watch needs to be consistent with the goals you want to achieve. Now is time to take action to flush out the garbage in your mind and replace your proverty thinking with liberations of mental abundance. Now is the time to liberate your greatness with empowerment thoughts. Now is the time to guard your mind, the gateway to your belief and value system.
Have you considered any of these thought provoking questions?

Does your road to abundant thinking look more like a city dump or superhighway?

What messages are saturing your mind - your mental garden and mental library?

Are you feeding your mind with intellectual junk food and jokes of the day or inspirational, empowering messages of the day?

Does what you watch on TV, read in books and magazines or listen to on the radio affect your thinking and behavior in the way you want them to? Does this way of thinking influence your life with accountable, productive actions or add negative, repetitive actions to your life?

Did you know what you think, hear and say determines the directions and quality of your life? It absolutely does!
I think you would agree ... our minds are like a garden. We can intelligently cultivate our garden or we can allow it to run wild and out of control. Just as a gardener must tend to his or her garden, you must tend the garden of your mind weeding out the thoughts of lack, limitation and negativity.
If you don't plant specific seeds and keep out the weeds, one thing is certain, "SOMETHING YOU DON'T WANT TO GROW WILL CULTIVATE IN YOUR MENTAL GARDEN!
EASILY AND EFFORTLESSLY CHANGE HOW AND WHAT YOU THINK
(Pop in this CD and let it play in the background)
Here is how this CD will help you ...

Wake up your personal brilliance with positive, life affirming messages spoken in repetition.

Implant empowerment thoughts in your mind like seeds cultivated in a garden. These energy boosters are designed to expand and reprogram your mental garden to inspire and liberate the greatness within you.

Influence the way you think and change your actionable behavior.
Hear LaVance Hammonds, the Inspirational Energizer®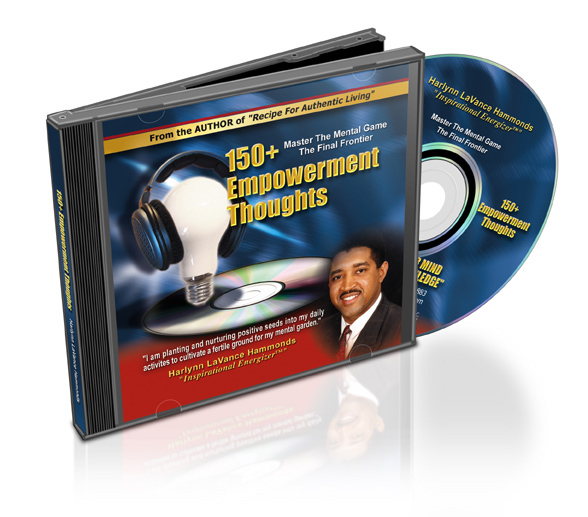 CD - 150+ Empowerment Thoughts
Click the microphone images to listen to examples of audio tracks!



Intro
Track(1:47)

Overcoming
Fear (1:00)

Positive Attitude Adjustment (1:00)
This is not the typical motivational CD. Listen to this CD while traveling in your car or when doing small chores or even while you lodging around the house. Within the contents of this CD is the language of success and change boosters to move you into action.
This empowerment CD is broken into 13 tracks with soothing music. Total minutes: 52.08
Track 1: Introduction Track 8: Motivational and Inspirational Insights
Track 2: Overcoming the Fear Factor Track 9: Performance Improvement
Track 3: Positive Attitude Adjustment Track 10: Ignite a Highly Contagious Enthusiasm

Track 4: Make Your Blessing Count Track 11: Applied Knowledge
Track 5: Puruse Your Passion w/Passion Track 12: Visionary Leadership
Track 6: Aplication of Time Management Track 13: Success is Within My Reach
Track 7: Wise Choices for Abundant Living